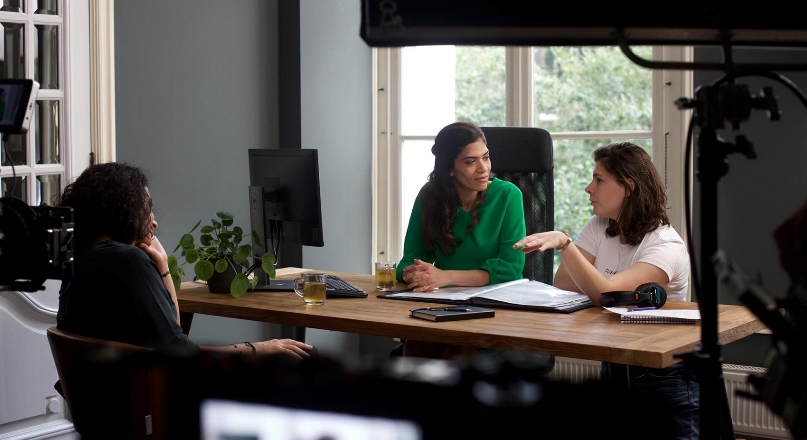 OITNB-actress Laura Gomez stars in second season ANNE+, the prize winning series about the young lesbian Anne living in Amsterdam.
Actress Laura Gómez, known for her role as Blanca Flores in the popular Netflix series Orange is the New Black, has been casted in the second series of the Dutch series ANNE+. Gómez flew to Amsterdam last week for the filming. ANNE+ wil be aired this spring on Dutch television.
Picture by Abel van Dijk.
The first season of ANNE+ received much critical acclaim from other countries. The series has been nominated for the Prix Europa in the TV Fiction category and has been selected for various festivals, including the leading Tribeca Film Festival in New York. This is where Laura Gómez saw the first two episodes of ANNE + and was enthusiastic immediately, approaching the producers to find out if she could play a role in the upcoming season.
Laura Gómez: 'I was really impressed. It is such a good and fun show. When I heard they were making a season two, I wanted to be a part of it. I said: even if I have to play a tree, count me in!'
ANNE+ tells the story of a lesbian twenty-something-year-old student named Anne in Amsterdam. Read more & watch the S1-trailer here!
Laura was born in the United States in 1979 and grew up in the Dominican Republic. When she was 21, she moved back to New York to focus on her acting. She has played in various films and television series, including Law & Order SVU and Orange Is The New Black.
In OITNB she played the role of Blanca Flores for seven seasons. Laura was so touched by the fate of her fictional character and the reactions to it - Blanca was arrested at the end of the 6th season by ICE and faced being deported- that she has since been tirelessly committed to the rights of immigrants. One way she has made a difference is by sharing stories on her Instagram account, using the tag #immigrantstoriesbylauragomez.
ANNE+ second season
24-year-old Anne seems to have it made in the second season: she has a job she loves at a creative agency, she's dating a cute girl, has lots of friends and has a great place in Amsterdam. However grown-up life still seems to get to her now and again: how do you juggle friends, work and relationships?
All your favourite characters will be back for season two, including a few new faces. Every episode evolves round Anne's love life and that of another couple in her life.