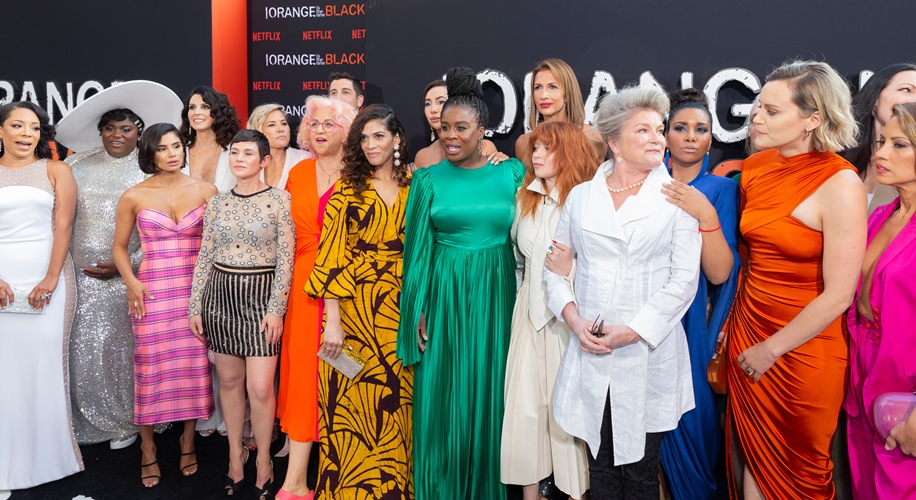 This summer the last season of Orange is the New Black airs on Netflix (available since July 26st). This season deals with the lead character's Piper Chapman (Taylor Schilling) setbacks and temptations she has to deal with now she's out of prison and her girlfriend Alex Vause (Laura Prepon) is still behind bars. And of course we find out what happens to all the other characters, including Nicky, Lorna, Red, Doggett, Flaca, Maritza, Cindy, Suzanne, Daya, Aleida and Blanca.
New York, NY - July 25, 2019: Cast attends "Orange Is The New Black" Final Season World Premiere at Lincoln Center Alice Tully Hall – Image by Iev Radin / Shutterstock
It's been six years since Netflix launched the first season of Orange is the New Black, after which the series won several awards.
Best Drama and Best Comedy
OITNB was the first series that was simultaneously nominated for both Best Drama and Best Comedy categories in the 2015 Emmys. Thanks to the series, several actors have had career breakthroughs. Uzo Aduba (Suzanne) now has several Emmys and Laverne Cox (Sophia Burset) has been nominated three times. Both use their platforms to speak out about LGBTQ rights and immigration issues.
Freedom for Immigrants
The last season of OITNB in ??particular deals with the unjust treatment of immigrants in the United States. In the fifth episode of the last season, the character Maritza, who is stuck in a detention center for immigrants, discovers a free hotline that she can call to get pro deo help from a lawyer. While she gets excited, another character, Gloria, warns her against it. Gloria: 'You have to be careful. If they find out you are using the hotline, Big Brother will shut it down.'
According to real-life lawyers, this is exactly what happened recently in American immigration centers. Immigration and Customs Enforcement closed down a real hotline for detained immigrants run by the California group Freedom for Immigrants, less than two weeks after it appeared prominently in the show. Six actors from OITNB and more than 100 organizations signed a letter to ICE director Matthew Albence demanding that the hotline be restored.
Laura Gomez (Blanca), said that she was deeply saddened to hear that the hotline had been shut down. At the end of season 6, Blanca is released from prison to hear that she has been transferred to the ICE immigration service. Gomez speaks out about how the reality in immigration centers is simulated in the series: 'I wish this was more a fictional situation and that we exaggerated reality, but it is actually the opposite.'
Queer characters OITNB
A large part of the players is also queer in real life! Lea 'Big Boo' DeLaria, Taylor 'Piper' Schilling, Ruby Rose, Samira 'Poussey' Wiley (who is now married to Lauren Morelli, one of the makers of OITNB).
Platonic relationships
Media critics claim that OINTB has drastically changed what queer, trans and people of color demand from television. The series has proven that nothing is 'impossible', not even when it comes to casting. In addition, OITNB was one of the few TV shows where lesbian sex scenes were shown without shame or explanation.
In addition to the lesbian sex scenes, there were also many special platonic relationships between the women in the series, like the friendship between Maritza and Flaca, the mother/daughter relationship between Nicky and Red and of course the close friendship between Poussey and Taystee. No matter what was going in in their lives, the focus always stayed on the women.
It's going to be hard to say goodbye for good…
*