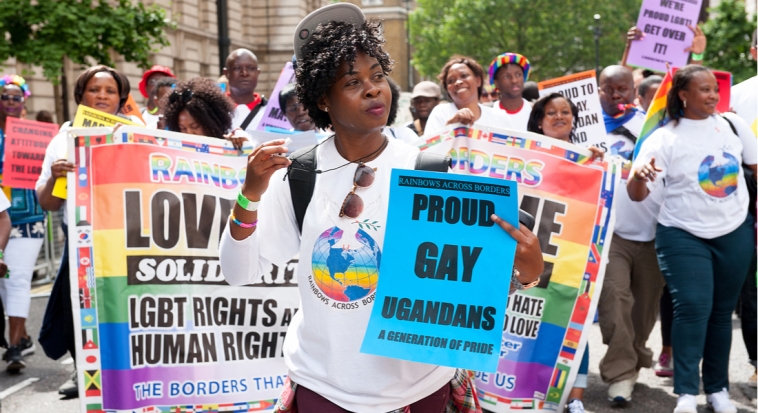 The Ugandan government have announced they will be introducing the death penalty for homosexuality. The new law they want to implement is to restrict the rise of 'unnatural sex'.
The law is known as 'Kill the Gays' and was rejected five years ago due to a procedural error, however, the government now has plans to reintroduce the law and the proposal will be submitted to parliament in the coming weeks.
In 2014 the country received a lot of international criticism and sanctions from many countries. 'This time we will not be intimidated,' says Simon Lokodo, Minister for Ethics and Integrity (sic). 'Homosexuality is unnatural, and those who spread the lie that it is genetic must be punished.' Homosexuality was illegal in Uganda already, but the new law is to criminalize its so-called 'promotion'. 'We are ready for criticism,' says Lokodo. 'We do not respond well to blackmail and we will not allow a culture to impose itself on us if it isn't our own.' [Reuters.]
Image by John Gomez / Shutterstock: London Pride 2016
Fear
The announcement comes shortly after the murder of Brian Wassa, a gay man, who was murdered in his home in Kampala by an unknown person. 'The fear was already there and has been fired up even more now.' Gracias Atwiine, coordinator of an AIDS fund project in Uganda: 'In the days following the announcement, we received various reports of violence against trans women. People from the community are afraid to leave their houses.'
After the announcement of the plan for the new law, some spoke up for the other side. A spokesperson for the Ugandan government, Mr. Opondo P'Odel, announced on Twitter that there was no plan to introduce any such law. 'But that contradicts the words of Minister of Ethics and Integrity Lokodo, who informed local media that they wanted to get the law accepted by parliament before the end of the year,' according to the AIDS fund.
Confusion
Confused? Well, another spokesman for the Ugandan government, Don Wanyama, also denies any such law and says he has no idea where Lokodo got his information. 'You should ask him that. There are no plans for such a law.' Wayama's denial follows international media attention and condemnation of the bill.
The rest of the world
Last spring Sultan Bolkiah, from the Asian Brunei, also announced that from now on homosexuality, rape and adultery would be punished with death by stoning. Later, following fierce international protests, he retracted the law. It has now been postponed, but, according to human rights organizations, that postponement may be revoked at any time.
In addition to Brunei and Uganda, there are 11 countries where homosexuality can be punished with death. But this is on paper, actual executions have been less frequent in recent years. In Europe, executions based on sexual orientation last took place in concentration camps during the Second World War. [source]
Back to the situation in Uganda: 'We'll have to wait,' says Gracias. 'If it is indeed implemented, we should know by the end of this month. But we hope all the outside pressure will help to change the president's mind.'
'The announcement is still a blow to the LGBT community. Besides the dangerous anti-gay sentiment flaring up in society, the moral of the LGBT movement is also suffering. Following the lost lawsuit concerning the anti-gay law in Kenya, this is a new setback.'
*