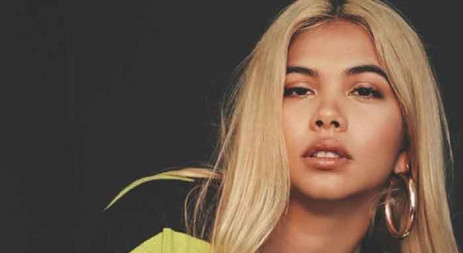 From Amsterdam to Paris, from Brussels to Berlin, London, Oslo, Milan and Barcelona: Hayley Kiyoko will be in Europe for two months.
HayleyKiyoko.com: 'I've been told you can't mention 'girls' in a pop song if you're a girl,' she goes on. 'I'm doing what comes naturally. I hope anyone can listen to my music and relate to it no matter what their sexuality is. At the same time, I'm humbled and appreciative to provide a voice for people who might not feel represented in the mainstream.'
Closing out 2016 and kicking off 2017, singer, songwriter, director, actress, and rising popstar Hayley Kiyoko headlined the two-part 'One Bad Night' Tour in support of her critically acclaimed debut EP, Citrine. Even though it would be her first proper headline run, every single date sold out. In cities across the country, lines stretched around the block as fans signed rainbow flags to share with the artist during meet-and-greets where they took copious notes and asked deep questions about her vision—down to color palette choices and production. Just under the radar, a welcoming community rallied around her art and only blossomed bigger by the show.
'What I realized is it's bigger than me,' she says. 'The fans care about each other, they care about me, and they also care about the art. I'm simply writing things I haven't heard on the radio and they happen to be resonating. Every encounter was emotional, impactful, and real, but I remember meeting this one fan at a show. She thanked me for turning her life around. I didn't turn anyone's life around; I just created a safe space for them to figure it out.'
In the midst of this whirlwind, Rolling Stone placed her among a 2017 list of '10 Artists You Need To Know' as further praise poured in from Noisey, Refinery 29, Teen Vogue, Paper Mag, Huffington Post, and many others. Citrine's 'Gravel To Tempo' cracked 8 million Spotify streams, and her self-directed videos cumulatively generated over 144 million views in under two years. This all happened in between an impressive slate of film and television roles, including CSI: Cyber, Insecure, and the upcoming Five Points.
Emboldened and energized by all the support, Hayley further expands that space on her 2018 full-length debut, Expectations [Atlantic Records]. Penned between Los Angeles and Ojai— the album's thirteen tracks lyrically explore everything from her debilitating concussion and subsequent struggle with post-concussion syndrome, to the ups and downs of dating and relationships. Musically, the singer's pop palette progresses with the inclusion of ballads amidst the unpredictable and up-tempo alternative dreamscapes fans have come to expect. Her confidence markedly informs this sonic evolution. She makes bold choices in terms of tempo, presentation, and production that belie her signature honesty on a collection of new songs about everything in her life from health to girls to loss.
January 2019 will be the start of her European tour: